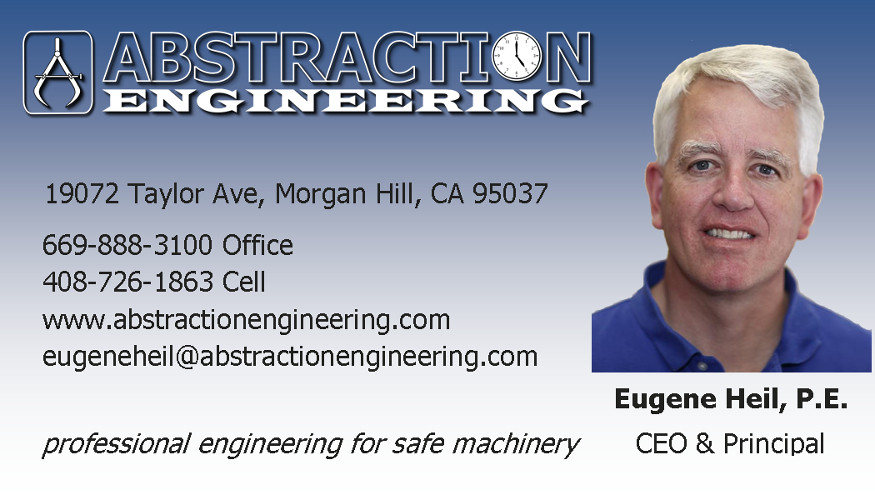 Eugene Heil, P.E.
Education:
BS Electrical Engineering, University of Vermont
MS Engineering Management, Santa Clara University
California licenses:
Experience:
Abstraction Engineering, CEO and Principal: 2010 to present.
Another Field Evaluation Body: principal engineer and operations manager, conducting field label investigations, CE Mark, SEMI S2, robotic work cell, and industrial safety including arc flash. Feb 2006 to Aug 2010.
HomePartner.com: buying, selling, managing, and renovating residential property, from 2002 to present.
Hewlett-Packard, Unisys, Shugart, and start-ups: management responsibility for development, quality, and reliability of computer memory systems, 26 years.
Professional membership:
ASSE – American Society of Safety Engineers
BAESG – Bay Area Environmental Safety Group
IAEI – International Association of Electrical Inspectors
IEEE – Institute of Electrical and Electronics Engineers
NFPA – National Fire Protection Association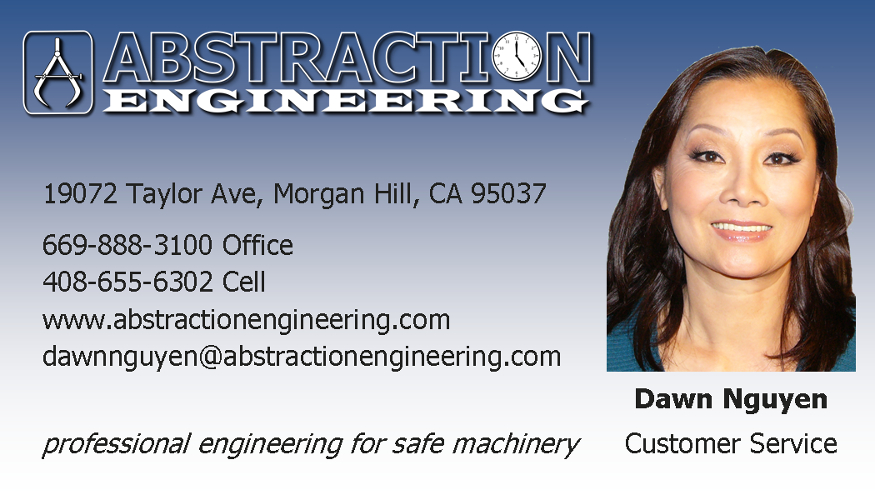 Dawn Nguyen
AS Electronics Technology, Denver
BS Business Management, University of Phoenix
Experience:
Abstraction Engineering: customer service manager
Jabil Circuit: manufacturing supervisor, 2 years.
Unisys/Convergent: PC product test, reject analysis, repair, and quality control, 13 years.
HomePartner.com: real estate sales and management, from 2002 to present
Biography of Mark Montrose
EMC evaluation is assisted by Mark Montrose of Montrose Compliance Services, a full service regulatory compliance company helping clients achieve electromagnetic compatibility (EMC) from the design level to certification. Services include design (printed circuit board and system level), test and certification of information technology (ITE) and industrial, scientific and medical equipment (ISM) with a specialty in the international arena, especially the European EMC Directive. In addition he provides training courses worldwide on various aspects of EMC engineering. www.montrosecompliance.com
Education:
Both BS Electrical Engineering and BS Computer Science, California Polytechnic State University, San Luis Obispo
MS Engineering Management, Santa Clara University
Publications (Reference Books – published by John Wiley & Sons/IEEE Press):
Printed Circuit Board Design Techniques for EMC Compliance, 1st ed. 1995, 2nd ed. 2001
EMC and the Printed Circuit Board. 2000
Testing for EMC Compliance. 2005
EMC Made Simple, 2014
Contact us and get our free book on Safe Machinery